Welcome to Sports Nutritionist London in Balham, Clapham and Wandsworth.
Sports nutrition – it's not just for the professional athletes. Whether you workout in the gym, are a weekend warrior or a more serious amateur athlete your sports nutrition needs are no different to that of the Olympian, Premier League football player or professional tri-athlete.
If you want to improve your sports performance call me today on 0203 322 9455 for a FREE 10 minute consultation to discuss your needs and goals.
I am an experienced Sports Nutritionist and have been helping professional and amateur athletes from around the world over the past decade. My Sports Nutrition clinic is based in Wandsworth Town and I help people in the surrounding areas of Clapham, Tooting, Streatham, Wandsworth Common, Wandsworth Town, Chelsea and Fulham in London with sports nutrition and nutritional therapy.
Buy one of my sports nutrition package and benefit from my 100% money back guarantee. 
My clinic is about helping people manage their health and sports performance through healthy eating, good food choices, and where necessary nutritional supplements.
London Sports Nutritionist 
I will teach you that you really are what you eat and when you get your nutrition right your health and your sports performance will see a huge benefit. See my clients true stories…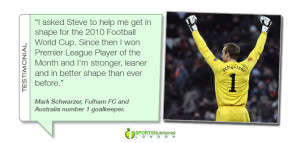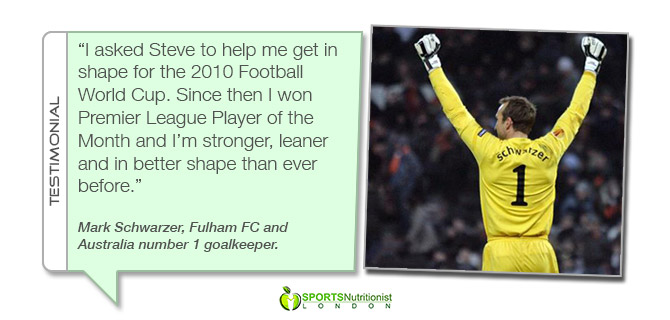 Mark Schwarzer improved his performance and recovery using my nutrition advice in preparation for both the 2010 and 2014 World Cup.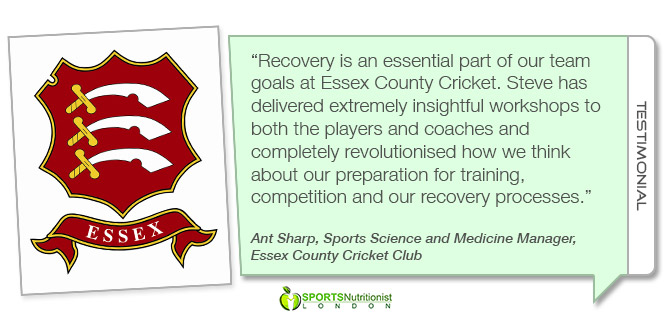 Essex CCC used me as a nutrition consultant in preparation for their 2010 season which help the player's cricket performance.
Contact Sports Nutritionist Steve Hines today.
I use a unique approach including BioSignature, Functional Medicine and nutritional therapy with athletes in elite sport and in private practice in the UK, I have helped countless athletes get to astonishingly low body fat percentages (between 3 and 8%) as well as helping gym goers lose weight and improve their health.
This had lead to athletes improving their performance and recovery from training and games. Now I want to share these techniques with you to get you in the best shape of your life.
I help clients build better nutrition and hydration strategies for before, during and after competition and helps them build sound nutrition guidelines to follow during the on and off season.