Why choose me as your Sports Nutritionist?
Give me just 1 hour of your time and you will see how I can help become the best athlete you can be through advanced sports nutrition.
I use a unique combination of BioSignature, Functional Medicine as well as a number of physiological, lab and field tests to establish exactly what you need to do to take your sports nutrition to the next level.
Sports Nutritionist London Can Help You Improve Your Sports Performance and Recovery.
With over 10 years experience in elite sports I have helped numerous professional athletes improve their body shape, drop unwanted body fat, put on pounds of muscle, improve speed, agility and performance, and improve their day to day recovery from training and events.
Now you can get access to this sports nutrition service with Steve's Sports Nutritionist London clinic.
I know my Sports Nutrition Programme is so good I offer a FULL MONEY BACK GUARANTEE (which is unheard of in this industry).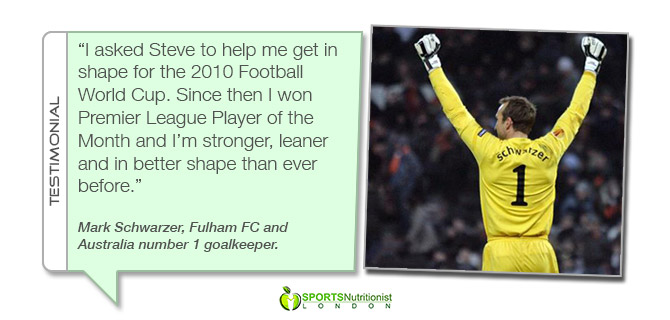 If after 30 days of my Sports Nutrition Programme you don't notice an improvement in your performance and recovery I'll reimburse every penny of your money – NO HASSLES, NO HARD FEELINGS.
What can I expect from this Sports Nutrition Programme?
I offer aprofessional, discrete and scientific advice, and safe and effective (and drug screened!) supplement advice.
This is exactly what you can expect from my programme:
Comprehensive diet, lifestyle and training session assessment
Hormone and immune system assessment if required
Personal base nutrition plan
Individualised supplement plan
Hydration strategies
Advice on protein supplements / shakes
Strength training support
What results will I get?
I GUARANTEE you will:
See an improvement in your sports performance
Drop unwanted body fat
Notice improvements in your muscle soreness after training and games
Sleep better after events
Feel fitter and stronger
Notice minor ailments clear up
Where is Sports Nutritionist London?
I currently consult from Wandsworth Physiotherapy, 535 Old York Road, London SW18 1TG or do home visits in South West London.
How do I start?
Contact me today for your Sports Nutrition consult via the contact form on the Home Page and I'll send you all the forms you need to fill in prior to the consultation.
Don't just take my word for it! See who else has benefited from sports nutrition.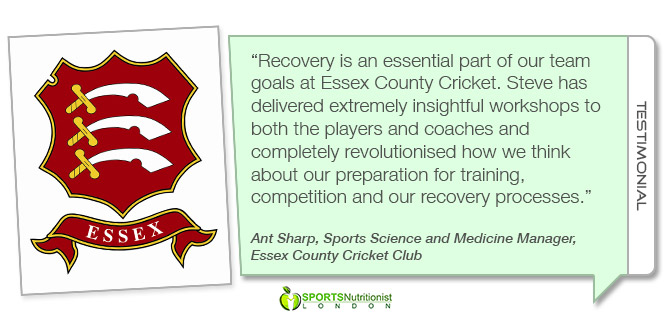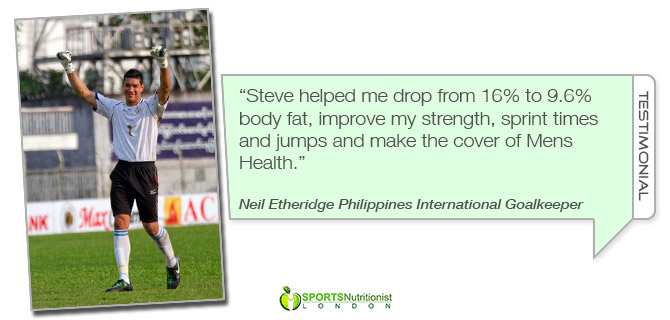 So what is the investment for this sports nutrition programme?
Imagine yourself in a few months time having just completed your half marathon or triathlon in record time – a new PB!
Imagine having put on 5kg of muscle or dropping 5% body fat and placing better in your figure competition or making a weight class.
Imagine making the first team (or keeping your shirt from a young pretender) and the pride you feel running out on the pitch.
Imaging making a regional, national or international team and getting the chance to compete against the best or win a medal.
There are 2 Sports Nutritionist London packages you can invest in:
>>Package 1: 12 week's sports nutrition support where I invest 7 hours in you to help you make the team or create a PB or win a medal.
>>Package 2: 4 weeks sports nutrition support where I invest 2 hours in you to help you make significant chances in your health, performance and recovery.
You can upgrade from package 2 to package 1, and there are payment plans available.
Sports Nutritionist London BONUS OFFER – Act now
For people who act fast I have a very special series of bonuses worth over £175 that are on a first come first served basis. This includes:
Sweat patch testing and interpretation. Value £50
BioSignature, body fat assessment and interpretation. Value £50
Salivary, immune and hormonal markers and interpretation. Value £50
A bottle of Omega 3 fish oils. Value 12
The little book of nutrition tips. Value £7
What are nutritional supplements? book. Value £6
That's £175 worth of bonuses just for signing up. This bonus pack is only available to the first 5 people that apply. After that I'm out
For more details about my programme fill in the contact box top right.
Don't delay, appointments are limited – get the sports performance results you want now!